We create value for your Organization through our Web Design
We intelligently focusing on your website related problem in order to provide complete solutions through our services.
Custom website allows and encourages you to show your company culture and personality through design. It is a process of creating a unique web page to meet your brand's certain requirements. It can be built and presented into a custom template for your website. The unique customized designs may increase the site's audience, function and traffic.
Custom websites are always adaptable to the company's needs, as it is built according to your specifications. The custom website design is expensive and takes a bit longer to develop. But, it is always expandable. You can easily come up with a new idea and we can eventually make it happen. The Aplectrum, as the best web design company in Bangladesh provides you the support of highly skilled developers to develop your site and find new ways to increase the longevity of your site.
CONTACT US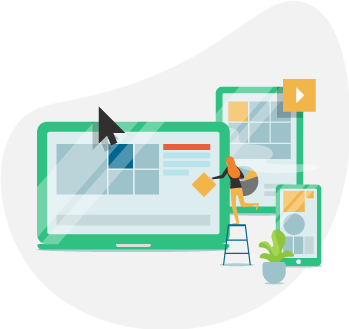 A responsive website maximizes your visitor's user experience. Depending on the devices such as a smartphone, tablet, laptop, desktop, this framework hides, shrinks, moves and adjusts content on your website. Basically, a responsive website makes sure that your site is easily viewed.
Your website requires different views on different devices and your website must have that accountability to fit in every device. This requires revisiting the website's design layout, information architecture and understanding the users. It requires strong planning and strategy. The professional website design team of our top web site design company in Bangladesh is always ready to provide you the very efficient and perfectly responsive websites.
CONTACT US
03
Content Management System
A content management system facilitates creating, editing, organizing, and publishing content. It allows you to create and publish your content on web. It provides the facility of having full control over the files, documents as well as the design and display of the content.
Aplectrum provides you the best content management system that can be used in all sort of creative ways. Our core functions are indexing, search and retrieval, format management, revision control and publishing. Our content management team can index all data for easy access and allow users to search by attributes. We also facilitate HTML or PDF document from scanned paper and legacy electronic documents. We as the website design company in Bangladesh have the ability to tailor a website's content and advertising various user-provided information.
CONTACT US